"Full mouth rehabilitation in 7 days"
All-on-4 or full mouth implant is a treatment which suitable for a patient who loses many teeth or all of them. It brings back patient's confident smiles and fulfill function in everyday lives.
Full mouth implant or All-on-4, All-on-5, and All-on-6 is technical in dental treatment for treating by put dental implants into gums to attach denture with gums. Name will depend on amount of used dental implants for instance; All on 4 uses 4 dental implants, All on 5 uses 5, and All on 6 uses 6.
The dentist has to evaluate numbers of implant unit used for particular patient. The name of these technical terms are changed depends on implant units used per dental arch, for example, All-on-4 is consisted of 4 implants per arch, All-on-5 is consisted of 5 implants per arch, and All-on-6 is consisted of 6 implants per arch.
Main purpose is attaching denture with gums permanently. Without self- removable just like real teeth stay in mouth all the times. Dentist will suggest which case need 4, 5, or more by analyze from several factors such as the mass of gums bone leftover, denture weight, or denseness needed etc.
The number of Implant units in which mostly used for full mouth implant cases can be divided into two types;
• For lower arch: 4 implant units
• For upper arch: 5-6 implant units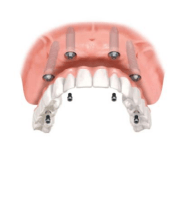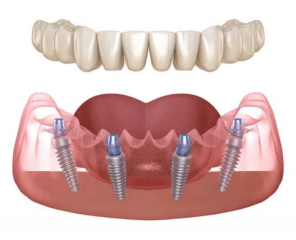 All-on-4 Treatment Process
Step 1: Diagnosis and treatment planning
At first visit, a perform of a full oral examination is required by a dental special by taking x-rays and 3D CT-scan for treatment planning; the dentist will evaluate according to bone density, nerves positions, sinus positions, etc. In this step, the patient will be informed about treatment plan and the number of implant units. To determine
Step 2: Implant installation and taking impression or intra oral scanning for dentures
A dentist will place the implant units as planned. There is a treatment for a severe abfraction, abrasion, or lose teeth case by removing all teeth and replacing them with full mouth implant using immediate loading implant technique. Once the implant surgery has done, a dentist will take impression or scan your teeth for denture fabrication to be inserted in the next visit.
*In case of insufficient bone or bone loss, bone grafting may be needed.
Step 3: Attaching fixed dentures 7 days after implant installation
A dentist will attach fixed dentures (temporary dentures) 7 days after implant insertion . Dentures' material and color are made to look similar to natural teeth. After dental implant surgery has been done, the next step is set up the follow up appointment within 6-12 months before getting permanent dentures to ensure that gum condition is good, and there's no abnormalities.
Why All-on-4 Dental Implant?
Replace missing teeth by fixed denture that functions like natural teeth
Esthetic natural look that shines your natural smiles
No worries about loosen or fallen dentures

Restoration of full chewing function and better digestive health
Enhance quality of life, self-confidence and personality
Improve your phonetics / Clear speech
Removing denture to clean up is unnecessary, patient can brush teeth just like daily life
All-on-4 Dental Implant Treatment cost
4 implant units + fixed acrylic denture
(suitable for lower arch)
5-6 implant units + fixed acrylic denture
(suitable for upper arch)
300,000 – 400,000 THB / arch
All-on-4 Dental Implant Testimonial