Should you consider dental care in Thailand or elsewhere?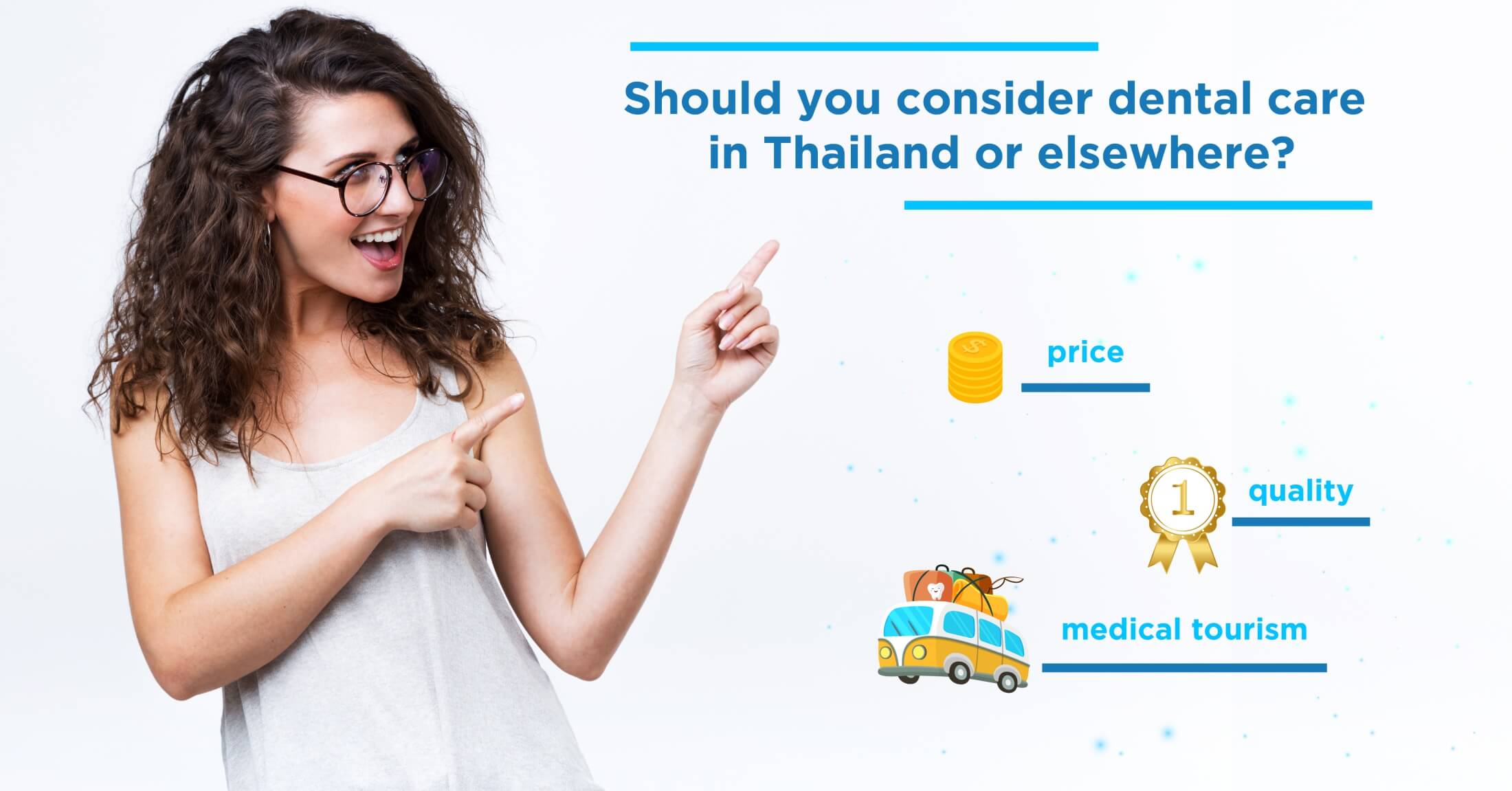 Dental care in Thailand are incredibly affordable when compared to Europe and North American countries. Many health-related facilities such as spa, massage, hospitals, and dental care providers offer top-class yet affordable services. International travelers visit Thailand for top quality medical services, such as to have their dental work done.
Price
Dental fee from places like USA or Australia usually cost 3-4 times higher compared to what it is in Thailand. The price point is one of the major reasons why many international visitors choose Thailand for their dental care. You get to travel around and have dental work done in one trip. It's like killing two birds with one stone.
Standards & Quality
Every clinic must have a general standard from the Ministry of Public Health. Other than this is a bonus. Every clinic tends to find some kind of guarantee or international accreditations from around the world to build trust and get a better image for international patients and for the clinic itself. Generally, practitioners in Thailand are well-trained in their respective fields. Their awards or accreditations will build your trust. According to the Thailand Board of Investment, Thailand's hospitals continue to extend the independent Joint Commission International (JCI) certifications even further. This process will definitely attract even more visitors to the country each year.
Thailand's medical tourism
As everyone knows, Thailand is best known for tourism, food and religious places. But today
Thailand becomes even more attractive to international tourists as a global health and wellness hub. The country continues to develop its medical devices and technology as well as creating high standards of care to answer the health needs of visitors from around the world.
At BFC Dental, we have received international patients for more than a decade. We have been consistent in delivering first-class dental care to both local and international patients. You can rely on us to deliver treatments tailored to your budget and time-frame. We also have international accreditations, including with the International Congress of Oral Implantologists and conform to internationally-accredited protocols concerning hygiene and safety. That is BFC Dental Center.
{{cta('ddf5d011-1a83-42b0-a8c4-286f7bea28cb')}}